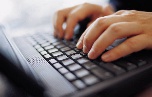 Just Mousing Around Newslette
r
~ Volume 17 Issue 8 -
Aug
2018

301 E 1st St, Ste 7
~ McCook NE 69001
308.344.8884
www.
pcswepartner.com

Service & Repair since 2001

Professional Computer Services LLC

Normal Office Hours:
Monday through Thursday - 8:30 a.m. to 5 p.m.

Quick Heal renewal orders placed on www.pcswebpartner.com will continue to be processed.

From the Workbench...
Last month we discussed ergonomic tips for computers.
Since some are choosing a laptop to replace their desktop we are going to focus just on tips for laptops on this one. Sometimes we have folks that experience neck or upper back pain, hopefully these tips will help.
Ergonomic tips for Laptop Users
We like the lightweight portability and convenience of laptops. More and more are making this their primary computer instead of their secondary computer. Unfortunately, it's compact design with the attached screen and keyboard leads to awkward and strange postures. When the screen is at the right height, the keyboard position is too high, when the keyboard is the right height the screen is too low. It's an ongoing trade-off between poor neck/head and hand/wrist posture.
A comfortable workstation setup promotes:
- Neutral postures with the neck aligned with the spine (NOT bent or thrust forward)
- Elbows close to the body and bent at an angle between 90 and 120 degrees
- Back relaxed and supported.
- Shoulders relaxed (NOT hunched or round
- Wrist and hands straight (NOT bent or turned)

Some other suggestions:
- Use a laptop stand if you don't use an external monitor.
- Attach an external keyboard and mouse at or slightly below elbow height. Use a footrest if needed.
- Place the laptop on your lap to help keep your wrists straight while typing.
- Try a binder or lap platform to maximize the height of the screen and maintain an upright head posture.
- Use a chair that supports a comfortable upright or slightly reclined posture.
- Use a towel roll or inflatable lumbar pillow for lower back support.
- Tilt the screen to maintain a neutral posture.
- Make sure to keep an upright posture.
- Don't hunch your shoulders forward or lean your body towards your laptop screen.

Do take frequent breaks from viewing your display screen looking slightly up to give your muscles a chance to relax. Allot of times we find ourselves in a cramped position looking downward at the screen or keyboard for extended periods which can cause some neck, back, or upper back strain and discomfort. You can also get 'lapdesk' for your laptop or risers to get your display higher. Of course, your chiropractor or doctor may have suggestions also.

Hope you may find this helpful. Happy computing, comfortably.
Some of the info for this can be found at: http://www.uhs.berkeley.edu/facstaff/pdf/ergonomics/laptop.pdf

Purchase your Quick Heal Renewal code on-line ...at your convenience.
Quick Heal software renewal purchasing is available on our website for customer convenience. Please see the QH Products/Renewal tab at the top of this page on how to do this. We'ill email your code to you after your order has been processed.



We appreciate your patronage
Copyright © Professional Computer Services, LLC 2018

Can't find a convenient time for computer service?
Let us help.
If you've been putting off having some regular maintenance done (which we recommend once a year for most), your computer is running slow, or you've seen more popup ads lately and it never seems to be a good time to have it serviced, let us help. If you're going to be away, it's the perfect time to bring it in for service. While you're gone, we'll complete the service and have it ready for you on your return. You won't even miss your computer. Call us at 308.344.8884 or stop by
301 East 1st St, Ste
#
7
; let us make it easy for you.

Copyright © Professional Computer Services, LLC 2018

Quick Heal v17.00 update FREE for current subscriptions.
Includes the new Safe Banking enhanced feature in Internet Security & Total Security versions. How do I upgrade to the v17 version? Existing software can be upgraded at no charge. Go to Quick Heal Upgrades page http://www.quickheal.com/upgrade. Then, choose the download that corresponds with your version of Quick Heal software. Visit the website for further instructions.

Quick Heal v17 now available !

New!
Tai Chi for Diabetes
(for anyone
with
or
without
diabetes)

Tai Chi class starts early September & its for anyone. Tai Chi can be a positive start for your journey to improving health & overall well-being. For more info on this Tai Chi class, you can call Sharon at the McCook Community College 345-8123 or visit
https://bceregister.mpcc.edu/CourseStatus.awp?&course=192CFEI7276
You can also email us if you have any questions: info
(at)
pcswebpartner.com

Please Note!
We've Moved!
Due to increasing office rent,
we moved!
from Norris to our
new location:

301 East 1st St
,
Ste
#
7
(Door north of Aphrodite salon entrance)

Please note August office change:
We'll be
closed
on
Thurs. August 23
rd
.

Sorry for any inconvenience, thank you for your consideration.
We appreciate your business!

Frustrated with your computer? Can't seem to find a time for computer maintenance? How about during vacation when you're not using it? Let us help, & get it done while you're gone.